This is probably my favorite way to catch bass other than on a topwater. I started using soft plastics when I was a little kid, and over the years I have tried many different styles, types and colors. My collection of them has grown to enormous proportions, and would rival most any tackleshop. This section will include lizards, craws, worms, french frys,and any other soft plastic lure that I think fits. I have a few different ones listed here and Ill give a description of them and let you know what I think of them. Each brand has alot of different styles, sizes and colors, and I'll try to list as many as I can in the future. So for now here is what I have. If you have a product, style or color you would like me to add, Please sign my guestbook or email me about it. If I dont have it or havent ever used it, its either because its a new product or I just never thought it was worth a crap in the first place. I hope you enjoy this page, and dont be to give me your comments or ideas.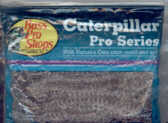 This is the Bass Pro Shops Caterpillar Pro Series worms. This series comes in lizards, craws, and the stud fry in assorted sizes, and many colors.The packages are filled with salt to give the worm flavor. The unique thing about these worms is that they have tiny appendages on them, that are supposed to make it feel softer and also trap air so it can hold fish attractants longer. They also are injected with crawfish flavor to make the bass hold on longer. Although Im not a big fan of this worm, Bass Pro does put out other worms that are very good. I just have never had any luck with this particular series, and you know how the old saying goes. "If you dont have any confidence in it, you wont use it very long therefore you wont catch anything with it."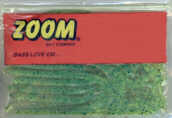 This is the Zoom U-Tale worm in the chartreuse pepper color. There is really nothing special about this worm. It is a 7" worm with a curl tail or "u-tale". I bought this particular worm because of its color, and for its body style. I like to use it on a texas rig and use it for pitching into cover.The body style of this worm slithers thru the cover very well, and Zoom makes a good chartreuse pepper color. All colors arent created equal.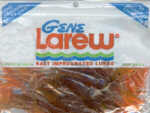 This is the Gene Lawrew 4" salty craw in the pumpkin pepper/orange color. These craws are salt injected and packed in salt. If you are looking for a salty craw, this is it. This isnt a big craw, but it does catch some hawgs. This bait has multi uses, it can be used as a trailer on a jig, you can texas rig it, or you can use it on a carolina rig. I use it all three ways and have had success with each rig.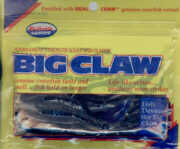 This is the Big Claw made by Riverside Lures. This is my "go to" bait. If nothing else is working, "big claw" comes to the rescue. This is the "5" black/blue craw which is my favorite combo in craws. The color works very well in all waters and is deadly at night. I especially like the claws on this bait. They are larger than your normal everyday soft plastic craw, and they just simply catch alot of bass. I dont know what I would do without a bunch of these in my boat.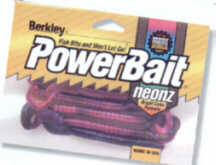 This is the Berkley powerbait neonz in the tequila sunrise color. I use berkleys powerbait series alot. I believe their formula does make bass hold onto the bait longer as they claim. However, these new neonz colors they have come out with arent very good in my opinion. The colors of these lures do stand out more than the previous line, but I havent had any success with them at all. I like all the old colors in the powerbait series personally. Lucky for me they still making the old colors.