Welcome to page 3 of my pictures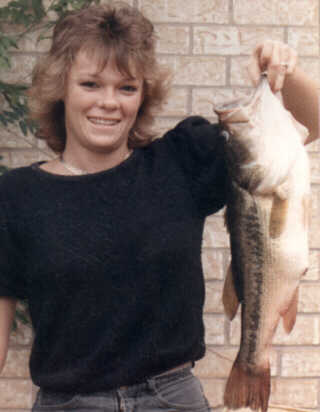 This my sister Julie,the bass she is holding in this photo weighed around 7 pounds. The bass was caught from a stock tank in the summer on a chartreuse spinnerbait in about 4 feet of water. Julie is 2 years younger than me and has two wonderful children.


This is my nephew Dillon with a nice Lake Fork bass. Dillon loves to go fishing with me and loves to catch bass like the one he is holding. He does his own casting and reeling, and caught this bass on a char/white spinnerbait.
Here I am with some nice Lake Fork bass. I caught all these bass on a char/white spinnerbait in about 3 feet of water. It was about 65 degrees and windy the day we went. I was fishing with my friend Charlie, who is a guide on the lake.


This is my friend Charlie, he lives and guides on Lake Fork. He runs Secret Haven Resort and knows where the fish are. He puts me on alot of good bass everytime I visit. If you ever get up to Lake Fork, and need a guide or a place to stay, give him a call. He will put you up in a cabin and show you some great fishing. Visit his site for more info.